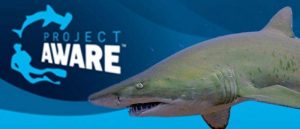 PADI AWARE Shark Conservation Diver Specialist
Why are sharks so important to our marine ecosystem?
Why are they so interesting and beautiful creatures?
Why are they disappearing in such high speed?
This PADI Specialty course will give you answers to these and more. It will give you an insight of how the sharks keep the food chain in balance, how they keep the prey population and sea grass beds healthy. It gives you an insight of the beauty and intelligence of sharks and how we as scuba divers can make a difference in saving the sharks from extinction.
Become AWARE about sharks during this PADI distinctive specialty course.
We will discuss different topics related to sharks whilst being interactive with each other.
If you like we can attach 2 dives to the course where we shall look for different kind of sharks in the waters of Nusa Lembongan and Penida, Bali.
For details about when the next PADI AWARE Shark Conservation Specialist course starts, costs etc. please email us on [email protected] or PM a personal message on Facebook.