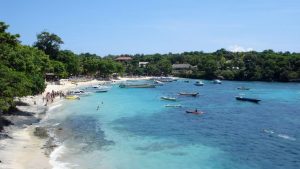 One thing we can agree on is that your love for scuba diving brought you here.
Are you are already a divemaster, and looking to take the next step on the professional ladder? Or do you work in another career where an Instructor Development Course (IDC) will help you progress in your career?
Either way, there are a few important things you want to consider before taking your IDC.
We hope by the end of reading this you have some clarity on all things IDC in Nusa Lembongan.
Here at Scuba Center Asia, we are proud to offer our famous #IDCWithKim instructor development course with PADI Course Director Kim.
Motivations and reasons
So the first question you should ask yourself (and we want to know, too) is why? Why do you want to take your IDC? What will it mean for you?
We have seen a huge variety of humans walk through our door to take on the IDC, and all for different reasons.
We can list the benefits, but it's important you're motivated for the right reasons.
Benefits of completing your IDC
The PADI Instructor qualification is a globally recognized qualification. It's a passport in itself to be eligible for work opportunities globally.
Enable you to take the step from divemaster and assisting to instructor and teaching.
Personal development as a scuba diving instructor.
Learn different ways of teaching.
Improving and developing your own diving skills and knowledge.
Make yourself more desirable to potential employers.
Increase your earning potential.
Turn your passion into a career!
Picking a location
Picking a location for your IDC is completely subjective, as everyone has different preferences.
Some people prefer convenient locations over going to a new location that may be further away. Some prefer to dive in warm tropical waters others don't mind colder waters.
There are many locations around the world that are famous for the scuba diving sites they offer. These locations also boast warm weather, clear seas, and relaxing environments.
If you choose to complete your IDC in a location closer to home, you would learn the same material. You wouldn't get the same experience of spending 2 – 3 weeks in paradise.
Why Nusa Lembongan?
The island of Nusa Lembongan is famous for its scuba diving sites.
It has warm tropical waters (27-30°C) most of the year and colder waters (16-27°C) between July – September.
The island is famous for its dive sites Manta Bay and Manta Point where you can see manta rays. Also when the water temperature drops you have a chance of seeing the famous Mola-Mola Sunfish fish. Two reasons alone why we know Nusa Lembongan is an excellent choice.
It also has a very established scuba diving community. Having this community around is great for networking, and socializing with like-minded people.
The IDC takes commitment and hard work! So it's nice to have plenty of sunshine, beautiful beaches, and warmer waters to help you relax after a hard day's work.
IDC group size
Group size is an important but sometimes overlooked aspect of taking on your IDC. Everyone has a different preference when it comes to group size and there is no right or wrong. Completely subjective.
Some students are happy to be part of large groups at bigger dive shops. Other students prefer smaller groups at medium to small sized dive shops.
The material you learn is the same, and the tests you sit are the same. But both offer very different feels.
Larger groups may offer the chance to socialize with larger groups of divers. One on one time with your IDC instructor may be more limited as they have more students to work with.
Smaller groups offer the chance for the IDC instructor to spend more 1 on 1 time with you, as they aren't spread as thin.
So if you need and want extra time to run through skills or theory knowledge, a smaller dive shop could be right for you!
You also end up feeling a part of the family by the time you leave with smaller dive shops.
The question is what is more important to you? Size does matter sometimes.
What's included in your IDC?
You will want to find out what's included as part of the IDC program you choose.
Some IDC programs will only offer the course. Other IDC programs will include accommodation. Few will offer accommodation as well as daily meals during course hours.
If you are cost conscious and want to maximize what you receive for your money, it is worth asking this question.
Our #IDCWithKim at Scuba Center Asia comes inclusive of accommodation and lunches.
We also have a brand new pool on-site, designed to accommodate all skills related to the IDC.
Upcoming 2019 #IDCWithKim dates
If you decide you want to book your IDC and wondering what dates the courses start in 2019 please see below schedule.
Start date 28th September – Instructor exam (IE) 15/16 October 2019
Start date 18th November – Instructor exam (IE) 4/5th December 2019
We have limited spaces on our #IDCWithKim so do get in touch today for more information on 2019 courses.
We hope the above has helped to shed some light on considerations before booking your IDC. Professional development is amazing, especially when your motivations lay in the right place. If you want to find out more about our #IDCWithKim get in touch with us here for more information.