Nusa Penida Best Dive Site
Nusa Penida is a fantastic place to go diving. Here, you will find dive sites that can only be described as incredible. You will have great opportunities to see some rare and famous species, top among them being the Mola Mola also known as the Oceanic Sunfish. Your chances of sighting this fish are greatly enhanced if you visit the island between the months of August and October.
During the other months of the year, the Mola Mola tend to live deep down and cannot be seen very easily. However, during these months, they rise to shallower waters where they are cleaned of any parasites on their bodies. This makes it an ideal time for visitors from across the world to make their way to Bali so they can see the Sunfish. If you would like to be among them, it is best to go ahead and book your dive well in advance since the trips can easily fill up.
The Crystal Bay dive site is considered the best place to spot some Mola Mola. Unfortunately, this area has very strong and tricky currents that may make it impossible for one to dive at certain times. Another site that is quite famous is Manta Point. Here, you will find a cleaning station for huge Manta Rays that can be found here in large numbers. Even though seeing a Manta Ray is not guaranteed, sightings occur almost on a daily basis. The area has beautiful scenery that includes limestone cliffs that surround the bay.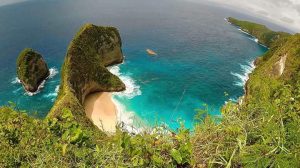 The good thing about the Manta Point dive site is that it is ideal for both accomplished and novice divers unlike the Crystal Bay site, which is only ideal for accomplished divers. At Manta Point, the currents are not as tricky and the water is shallow with a maximum depth of 15 meters. Because of this, it tends to get crowded at this dive site since it is quite popular. To beat the crowds, it is recommended that you arrive early. In the morning, the waters are also calmer and visibility is good which later in the day the water can become choppy with diminished visibility. Nusa Penida is a great place to see both soft and hard coral and there are lots of Gorgonian sea fans to be seen on the steep walls.
Be sure to heed all safety warnings because the currents around Nusa Penida tend to be unpredictable and strong. A current moving at 4 knots is not uncommon. As such, most dives tend to be drift dives. If you want to dive in Nusa Penida, just come to Nusa Lembongan and Scuba Center Asia Dive Center ready to make your dive more safety and fun. Find us Now In Nusa Lembongan!!!
Scuba Center Asia offers a wide range of diving courses in Lembongan for divers of all levels and ages. Learn and discover the underwater worlds that lie beneath the waves by enrolling in one of our courses!