The Famous Dive Sites of Nusa Penida
Did you know that Nusa Penida has around 20 dive sites?!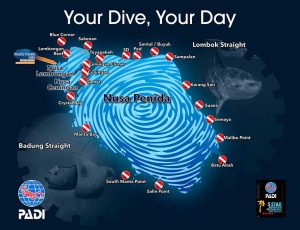 The famous ones are located on the north side of Nusa Penida and on the south side of Nusa Penida. Mantapoint, Manta bay, Crystal bay are the famous dive sites on the south side of Nusa Penida. Known for the Manta Rays and the magical Mola Mola. Toya Pakeh and SD are one of the famous Dive Sites of North Penida. SD can be a nice drift dive site or a stunning macro heaven when no current. Toya Pakeh, well wow, Toya Pakeh dive site is not only the main port of Nusa Penida, coming from Lembongan. Toya Pakeh as a dive site, is a real beauty queen but at the same time can be an absolute pain in the …
Last but not least, you might have even heard of the cheeky middle bit between Nusa Ceningan and Nusa Penida, the drift champion of all, Ceningan Wall. Fantastice diving but we only take you there when you are really an experienced diver. Read more about the famous dive sites of Nusa Penida.
The Mysterious Dive Sites of Nusa Penida
But did you ever hear of PmG? A very special and mysterious dive site on the north coast of Nusa Penida. Hidden between two more known dive sites Buyuk and Sental.
Special because there is a little temple on the top of the surface. Or actually same like the Tanah Lot in Bali, whenever it is low tide you see the temple been build on a rock. So PmG is a kind of a mini Tanah Lot based at Nusa Penida dive site.
Mysterious, because the famous Mola Mola seems to visit it a lot! Even in low season! But let's keep that a little secret between us.
Diving at Nusa Penida Dive Sites with Scuba Center Asia
When you book your dive trip or PADI Dive Course with us, you will find the privilege of diving a few dive sites of Nusa Penida. Of course, all depending on the weather and water conditions, the level diver or even what type of PADI Course. In general, we make your dive trip or diving course at Scuba Center Asia a dive experience like no other!
Our mission is that everyone (student or certified diver) who dives with Scuba Center Asia will learn how to dive and enjoy diving at their own pace and in their own style: every diver and every dive is different. Let us help you find the dive style that suits you best – Your Dive, Your Day!
Curious what happens on your dive day ?!
The favourite Dive Sites of Scuba Center Asia around Nusa Penida
By now you must be very curious about what our most favourite Dive Sites are around Nusa Penida?! If you would ask Kim, she would definitely tell you PmG or Toya Pakeh, located at the north of Nusa Penida.
If you would ask Bastiaan, he would tell you the Mangroves at the top of Nusa Lembongan! The Dive Site is called Mangroves because it is located near the mangroves at the northern part of Nusa Lembongan. The dive site is also known as Sakenan. Mostly we dive this dive site when it is not to busy on the waters anymore because of the many snorkelers around that area in the morning. So, join us on a dive trip when we go out in the afternoons if the conditions are good. You will be surprised by the beauty and the diversity. Or you will get a surprise visit by an Eagle ray flying buy or white tip reef sharks and many turtles, moray eels or even the camouflaged Scorpion fish.
Let us know what your favourite dive site is around Nusa Penida?! And we can plan a dive trip there for some great diving!
With crystal clear waters and diverse marine life, diving in Lembongan is an experience like no other. Begin your underwater adventure here at Scuba Center Asia!