My PADI Divemaster experience in Nusa Lembongan
With 40+ dives on my belt and a number of dives in different conditions around the world, I thought I was a fairly good diver before the PADI Divemaster course. Well, I quickly realized that I wasn't as good as I thought…
Becoming a PADI Divemaster was something I had been considering for a long time. Having been Open Water certified in 2011, I slowly continued my diving education over the years to finally take the divemaster course with Scuba Center Asia (aka bloody legends) in June and July 2017. Five weeks of amazing diving with fun, like-minded travellers and locals. I wish I'd continued my education faster and got here sooner!
Why I took the PADI Divemaster course
I chose to take the PADI Divemaster course because I wanted to become a better diver and increase my diving knowledge. At the point of course registration, I hadn't thought of actively working as a divemaster after I finished, however believe me – it is very, very tempting to stop everything else in your life and live the divemaster lifestyle once you've completed the course.

When it came to the course theory, I saved some time in the classroom by completing PADI Divemaster eLearning before traveling to Nusa Lembongan. It took a few solid days of sporadic theory but it was worth it in the end. For those that do complete eLearning before going to Scuba Center Asia, Kim and Bas may get you to do some revision or refresh your knowledge with other Divemaster candidates who did not use eLearning. This is what Kim did with me and it was extremely valuable.
What was it like learning to guide divers for the first time?
This is why I quickly learnt that I wasn't as good a diver as I originally thought. Yes – in the Open Water Diver course through to Rescue you learn a range of skills to dive safely and prevent, or handle incidents should they occur. The PADI Divemaster course entails all of those skills and more. You learn how to have those skills as natural behaviour, instead focusing on the guest to ensure they have a great dive experience.
You'll learn what's required as a dive professional from the first moment you meet a guest to the time you say goodbye to them. The dive preparation, attention you give them underwater and post-dive customer service are all additional skills you learn. You learn to quickly identify their skill level (no matter what their certification card says) and adjust your approach accordingly.
In reality, the only answer you need to know to this part is – it's awesome fun.
Guiding divers is like showing tourists through the best parts of your city. You have a sense of pride showing them and you want them to leave saying "Man, I love this city."
Accommodation, food and bikes
I arrived at the dive shop with Kim arranging nearby accommodation for me in advance. Very convenient – especially if you've had a couple (dozen) Bintangs after celebrating another awesome day of diving. Bikes are easy to come by, short term or long term, and the food around the island is actually pretty good. The Bar next door Scuba Center Asia (and part of Scuba Center Aisa) has some great Dutchie and local food options but when you've cleaned them out, other options aren't too far away.
What was the diving like?
Molas, manta rays, turtles, schools of fish, healthy coral reefs, nudibranch, frogfish, mantis shrimp… the list goes on. The diving here is great; some of the best in Indonesia.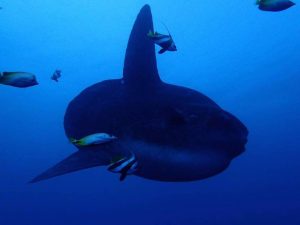 There are currents, sometimes strong and sometimes non-existent, however the Scuba Center Asia Instructors, PADI Divemaster s and Boat Crew are very skilled when it comes to identifying currents. By the end of your course, you should be skilled enough to notice them too.
Words won't do justice how much fun becoming a PADI Divemaster is and doing it on Nusa Lembongan is a no-brainer. If you're thinking about it, get in touch with Kim and Bas who are more than happy to answer any questions you may have.
For me – I'm off to become a PADI Instructor!