One thing we can agree on is your love for scuba diving brought you here.
Are you are already a rescue diver, and looking to take the first step on the PADI professional ladder? Or have you completed your advanced open water and want to take your scuba diving skills to the next level?
There are important things you want to consider before taking your divemaster course.
We hope by the end of reading this you have some clarity on all things divemaster course related.
Here at Scuba Center Asia we are proud to offer divemaster courses all year!
Motivations and reasons
So the first question you should ask yourself (and we want to know, too) is why? Why do you want to become a divemaster candidate (DMC)? What will it mean for you?
We have seen a variety of people walk through our door to become a PADI divemaster (DM) for a variety of reasons.
We can list the benefits, but it's important you're motivated for the right reasons.
Benefits of becoming a PADI qualified divemaster
The PADI divemaster qualification is a globally recognized qualification. It's a passport in itself to be eligible for work opportunities globally.
PADI qualified to lead certified divers on fun dives.
Personal development with both diving and people skills.
Learn different ways of assisting and teaching.
Become a role model for students and certified divers.
How to navigate and map dive sites
Be able to give safe and informative briefings
Master rescue and scuba diving skills
Transform your scuba diving into a platform you can earn an income from.
Being able to shadow and learn from experienced scuba diving instructors
Turn your passion into a career!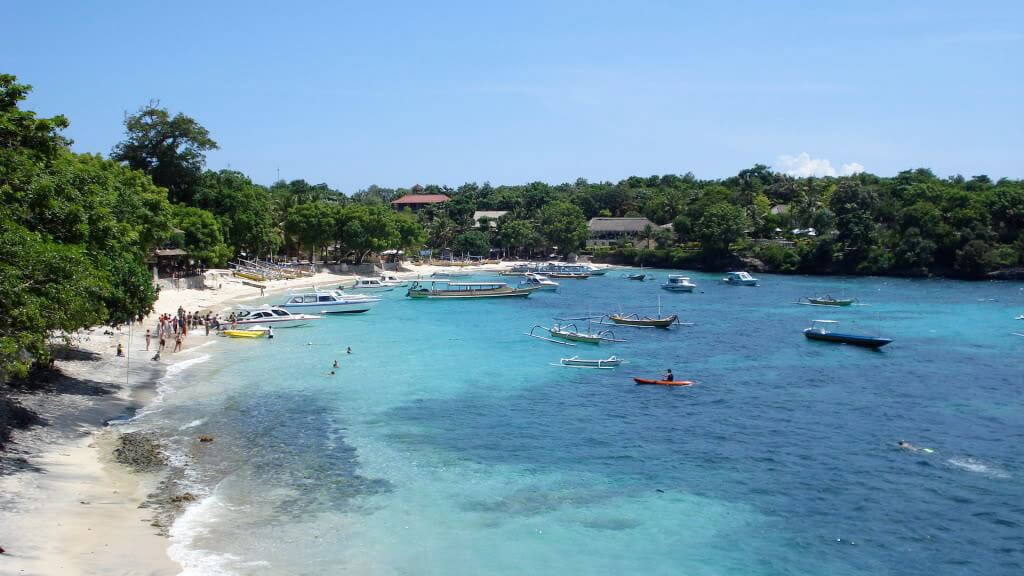 Picking a location
Picking a location for your divemaster course is also important.
Some people prefer the convenience of location over going to a new location that may be further away. Some prefer to scuba dive in warm tropical waters others don't mind colder waters.
There are many locations around the world that are famous for the scuba diving sites they offer. These locations also boast warm weather, clear seas and relaxing environments.
If you choose to complete your divemaster in a location closer to home, you would learn the same material.
It is also very important to remember timescales you have available.
A sensible amount of time to complete your divemaster course is 6 to 8 weeks. Anything less than this may leave you feeling rushed or that you didn't get the most out of it.
Why Nusa Lembongan?
The island of Nusa Lembongan is famous for its scuba diving sites.
It has warm tropical waters (27-30°C) most of the year and colder waters (16-27°C) between July – September.
We dive daily around Nusa Lembongan and Nusa Penida, although staying on Nusa Lembongan is a popular choice. The Island is beautiful with mostly scooters and some cars. It is also connected to Nusa Ceningan by the famous yellow bridge! Nusa Penida is a big island with lots to explore, but much better to take day trips here to explore rather than stay on Nusa Penida. We recommend staying on Nusa Lembongan when taking your divemaster for the best of both worlds.
The island is famous for its dive sites Manta Bay and Manta Point where you can see manta rays. Also when the water temperature drops you have a chance of seeing the famous mola mola fish. These are two reasons alone why we know Nusa Lembongan is an excellent choice.
The variety of dive sites available also help to sharpen your scuba diving skills. The dive sites will give you the chance to dive in the current (drift dives), no current and dive sites with a surge.
Nusa Lembongan also has a very established scuba diving community. Having this community is great for networking, and socializing with like-minded people.
Becoming a divemaster takes commitment, but is also an enjoyable and rewarding experience!
It's also nice to live on a paradise island with plenty of sunshine and beautiful beaches and epic sunsets for 6 – 8 weeks.
Getting to the island is also fairly easy as we are only a 30-minute boat trip from Bali.
Breakdown of PADI divemaster course
Below is a breakdown of the full PADI divemaster course. You will need to complete these things before becoming a qualified PADI divemaster.
Entry requirements:
40 logged scuba dives
Rescue Diver certified
Emergency First Responder (EFR) certified
Completion requirements:
60 logged scuba dives
Divemaster theory chapters 1-9
2 theory exams
400m swim test
800m swim test
15 min treading water
100-meter tow
Rescue 7 exercise
Search and recovery theory and practical
Deep dive (40m)
Project aware
Assist open water (OW) theory
Assist confined water 1 and 2
Assist scuba refresher (SR)
Assist discovery scuba dive (DSD)
Leading fun dives
Boatmaster and logistics
Shop duty
Dive site mapping
Skill circuit 1 and 2
Equipment exchange
Emergency action plan and incident report
Assisting continued education courses
What's included in your divemaster course with Scuba Center Asia?
You will want to find out what's included as part of any divemaster course you choose to join.
Here at Scuba Center Asia our divemaster course includes the following:
On-site poolside accommodation available
Brand new swimming pool to practice your skills
One on one time with PADI qualified Course Director, Master Instructor, Speciality Instructors, Instructors and Divemasters
Unlimited scuba diving when assisting courses and fun dives
Free scuba dives when not focussing on your divemaster course (DMC)
Flexible start dates and finish dates
Why do your divemaster course with Scuba Center Asia?
Regular team bonding BBQ nights
Staff and divemaster get-togethers
Fun atmosphere
Access to a brand new swimming pool to practice skills in or relax in
Beach cleanups and clean up dives
One on one time with experienced instructors and course director
Amazing dive sites
Chilled Island life
Beautiful sunsets and beaches
We hope the above has helped to shed some light on what to consider before making a decision. Becoming a qualified divemaster is a fantastic achievement! Whether this is for professional development or to elevate your scuba diving skills.
We'd love to hear from you if you're interested in going pro! You can find out more about our divemaster course by getting in touch with us. What are you waiting for?